Written: 2:25 AM 3/2/2021
Written by: Nick Dunn, ONW Forecaster
Who remembers the old folklore that the weather in March can come "in like a lamb, out like a lion?" We appear to overall have a calmer start to March. We did see some snow showers flying around just as a teaser to remind us cold spells are still possible in March (along with snow). If you missed our 7-day outlooks, we actually have 7 dry days in the forecast! This will help rivers and high water recede!
READ MORE: 7-Day Outlooks – 3/1/2021 https://facebook.com/211816785511786/posts/4656504837709603/
Through the remainder week, we expect near or slightly above normal temperatures. Sometimes red in march can be misleading because average highs are in the low to middle 40's. We will see above-average temperatures on Wednesday across the entire area. Otherwise, this week will be near average (slightly above or below depending on location). However, next week looks to be well above normal temperature-wise based on the Climate Prediction Center prediction! Most of the eastern 2/3 of the country will be above normal. We are likely to squeeze a few days in the 50's and 60's next week!
Precipitation wise, we will stay dry this week. However, indications point to rain returning next week. In fact, the Climate Prediction Center projects above-average rainfall for the entire coverage area in the 8-14 day outlook. With warmer temperatures likely, there looks to be no threat of snow.
Looking beyond this is a bit crazy since pattern shifts last month were volatile. We went from our area potentially looking brutally cold to seeing that cold shift to the deep south, where record cold was observed in places like Texas, where Wind Chill Warnings were issued. However, if March historically shows us anything, we are still prone to wild temperature swings. On the flip side, we can also see stormy and wet patterns in March. We lean towards things looking active this month precipitation-wise. Keep in mind that the averages are looked at for the month as a whole, not just a day or week.
Enjoy your Tuesday! We will see a decent day with sunshine and seasonable temperatures! Below is an "extra" for today's blog!
FLASHBACK: March 2, 2012
Who remembers the tornado outbreak from 9 years ago today? An EF-3 tornado ripped through Moscow, OH and Hamersville, OH. This caused extensive damage and even a few fatalities.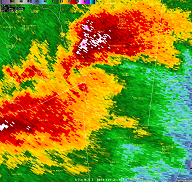 For more local information on this event, visit this link: https://www.weather.gov/iln/20120302