Written: 3:00 AM 2/27/2021
Written by: Nick Dunn, ONW Forecaster
Good Saturday morning, everyone! We are closely monitoring a flooding risk across our far southern counties. Flood Watches are set to become effective overnight tonight and last through Monday. Periods of heavy rain will cause concerns for high water in some areas.
Let's get into the timing and precipitation amounts! An active boundary to our south will interact with a disturbance moving through and cause rain to overspread the region. As noted in the last blog, heavy rain potential was creeping a bit further north. As of 3:00 AM, the NWS Wilmington expanded their flood watch into Ohio to include Adams and Scioto Counties.
Rain should begin to move in before Midnight on Saturday night. Initially, the rain will not be overly heavy. However, models show a rapid increase in overall coverage of rainfall, and intensity of the rain in the Flood Watch areas.
By early Sunday morning, widespread heavy rain is impacting much of southern Ohio into West Virginia. Rainfall rates of 1″ per hour or more are possible at times. The rain will be progressing quickly and not moving slow, which will help keep flood risks lower through the first few hours of Sunday morning.
By sunrise, much of the area is seeing steady rain based on this model, with pockets of heavy rainfall to the south continuing. By sunrise, flood risks will start to increase due to runoff and saturated soils. Another concern is that some areas are still cleaning up from the ice storms earlier this month. Rivers, creeks, and streams will begin to see rises.
By Noon on Sunday, we should see the heaviest rain stay across southeastern portions of the area, with overcast skies and lighter showers elsewhere. Don't be shocked to hear a rumble of thunder for those south of I-70 on Sunday!
RAINFALL TOTALS
Models continue to hint at the potential to see 1″ of rain as far north as I-70. The area of concern will be in far southern Ohio into West Virginia, where widespread rainfall totals of 2″+ are most likely. Lighter amounts are expected to the north of I-70.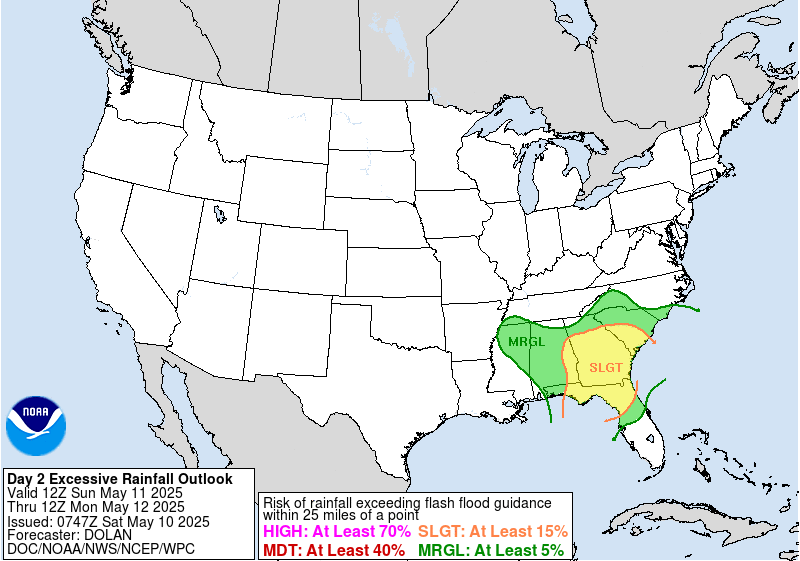 The Weather Prediction center has highlighted southeast Ohio into West Virginia for a Marginal to Slight Risk of excessive rainfall leading to flash flooding. We feel the overall risk of seeing flash flooding is not a big risk due to the nature of the quick moving precipitation (12-18 hours). However, low-lying, flood prone areas will likely see some high water issues. Also, where grounds can not handle additional water is another area we will see that risk of flooding, in addition to rivers, creeks, and streams. Monitor the latest forecasts for more updates!