Written: 3:00 AM 1/14/2021
Written by: Nick Dunn, ONW Lead Forecaster

Good Thursday Morning, everyone! Weather has been fairly tranquil lately, but we will finally have some precipitation to keep an eye on over the next several days as a series of a couple weak disturbances rotate through the region! We will have chances for rain, snow, and certainly some colder temperatures.
TODAY (Thursday) – Weather will remain peaceful during the daytime hours and highs should get above normal for today. Late tonight we will see a band of rain and snow move into the region just in time for Friday morning rush hour. No significant impacts are expected with this due to duration and temperatures being marginal.
This system is going to be in a weakening phase as the center of low-pressure moves in, but we will see chances for rain and snow on Friday. We will see a lull before colder air wraps around and causes snow showers to develop late Friday night into Saturday. Parameters are there for some of these snow showers to be "enhanced" by stronger mid-level energy in place. This means some snow squalls are possible, and that also means some light accumulations are plausible to consider at this time. These snow showers should not be overly widespread, but some spots could see 1″ of accumulation or so this weekend.
Here is a look at Saturday morning, and this model shows snow showers for a good portion of the area. These will continue off and on throughout the day. This system will depart on Saturday night just in time for another system to move through on Sunday with continued light snow activity.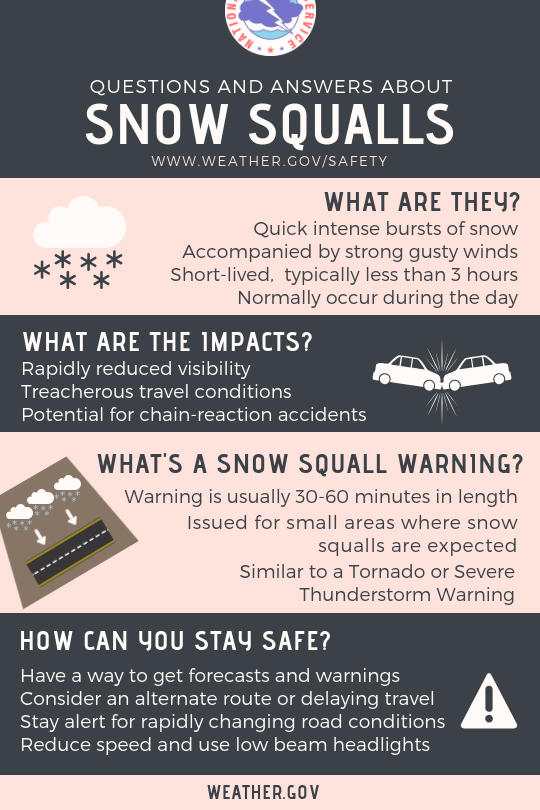 Here is a great infographic showing you what a snow squall is. We expect any squalls that are able to evolve to remain isolated as parameters are not overly aggressive but there are signs a few squalls are possible. Squalls can be dangerous due to low visibility and a rapid burst of snow causing travel issues. We will keep an eye on this over the coming days!